Saab Lynx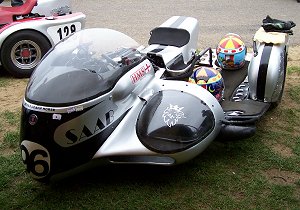 Reporting back from the Classic Racing Cycle Club at Snetterton 16-17 September 2006.


Richard and Samantha Holmes were competing in the Classic Sidecar races with their Lynx Saab 841 (1965). The husband and wife team have been racing for 30 years using the Saab 850cc 2-stroke engine with a Norton 6-speed gearbox and are apparently very successful.

More details to follow ...

We (Hagstrom family plus Alf Lilford) took the Sonett II along to the Oily Rag Club Meeting at the same event. Other local Saab enthusiasts spotted there included Pete the Swede.