Stand out from the masses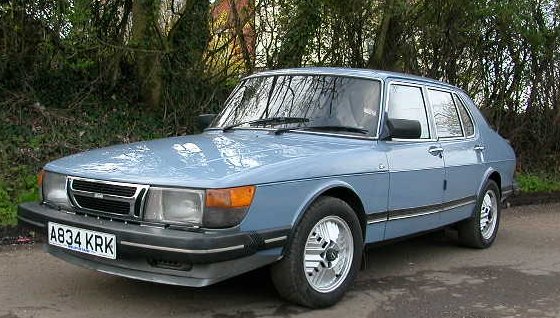 Dear All at Hagstrom Saab,

I have been enticed into your website, being a real car enthusiast and for some unknown reason a Saab fan. Until recently, two days ago, I had never even sat in a real Saab 900 classic. What have I been missing?

On occasions in the past I have been given the opportunity at our local Saab main dealer of a test drive in a couple of Saabs, both were 9000 CD 2.0 lpt later spec types. The first 9000 that I test drove was approx. six years ago. This car left me with a tremendous glow of enthusiasm and satisfaction....The 9000CD 2.0 lpt drove very well indeed, it was so wonderfully responsive, overtaking was a breeze, the comfort, space and specification inside was amazing, the seats were so comfortable and rear seat leg room was superb for someone of my height.

Leaving the Saab main dealer showroom after the test drive was sad, as I had felt I wanted the car but the price was £12995 at that time, ouch! Recently I had a test drive again in a Saab 9000 CD 2.0lpt, this particular car is in such incredible condition and is for sale. The main Saab dealer is wanting £3995 and won't haggle on price....so I shall hold off at this time.

Now for the interesting part, at this Saab main dealership....low and behold, nosing out like a lonely forgotten outcast, away at the far outer reaches of the more modern Saab car line-up, was a stunning classic Saab 900i SE model. This 900 is in outstanding condition. The paint work is totally like brand new, the interior looks as though no one has ever sat inside. The seats are as new, they are of a luscious grey leather specification, with the dash board of walnut. This 900 is a G registration approx 1990 model in Iridium blue, with unmarked cross spoke alloys.

I wasn't offered a test drive in this classic 900, maybe because I looked and possibly felt a little apprehensive, a feeling almost as though I shouldn't really be looking at a classic among the more modern line-up. I was however, invited to have a seat in the 900 while the dealership staff were getting the 9000 CD prepared for me to test drive. The Saab 900 amazed me in it's differences to other, I suppose, dare I say more orthodox cars. Everything worked so well, with the controls giving a feeling of real luxurious quality as it was intended. This 900 had obviously been truly treasured by someone since it's exit new from the showroom around 1990.

This Saab 900's driving position was excellent, coupled to first class comfort and the commanding driving position felt superb.....commandingly, I could gaze over this cars wonderfully designed bonnet...through the strangely unusual but beautifully curved windscreen, also the wonderfully reassuring deep dash before the windscreen, with the ergonomically placed controls. The bonnet of the 900 I thought, could be judged for car positioning and manoevering very accurately indeed, not like some more orthodox cars that I have owned and driven over the years. Why then can you tell me did I feel apprehensive upon seeing and then having the gaul to ask about this older classic Saab? and then to sit inside to check the car out. I should have pushed myself forward and had a test drive.

One or two other people were gazing and dreaming around the more modern Saabs at the dealership and on occasion would give me a very sort of odd look, as if to say oh! poor chap look, he must be so poor having to consider looking at that old Saab 900. As you have said in your articles on the website, these cars do stand out, they are different to the main orthodox cars. I had a very distinct feeling of privilege sitting in this 900. The quality of the car was outstanding, the rear parcel shelf was obviously built from real quality timber, the doors shut with solidity and ease of use.

When I was a little younger, I hadn't even considered a Saab 900, the Saab 900 classic must have hidden somehow from my gaze, just as it had done, almost within the crowd of the more modern Saabs on the Saab dealers forecourt.

To conclude I must have been brainwashed when I was younger, all the mainstream marketing hype can turn one in the wrong direction, not to even consider a Saab 900 of this so obvious pedigree. What a wonderful car and safe as houses as well, I believe the interior of the Saab range are also flame resistant? and the bonnet is designed to move up and over the roof in a frontal accident, avoiding going through the windscreen, clever, very clever Saab.

Could I drive a car like the 900 in the crowd?..... yes without a shadow of doubt. I've got to get one!!!!!!! a true classic of impeccable breeding and safety. Amazingly the younger members of my family seem to think these cars are great. They like the blue Lavender 4 door with the Inca alloys and the Platinum blue four door models you have currently on your website, so no doubt they will be checking your site regularly for updates and more photo's.

I am really enjoying your journals on the site and I thought that I was passionate about cars! Look forward to more interesting comments and further reading.

Best Regards,

Stuart (Scotland) UK.